Adult Martial Arts Classes Frisco TX
Have you been searching for Adult Martial Arts Classes Frisco TX? But you have not found the right dojo for you? Maybe you are looking to jump back into martial arts after being gone for years. Or perhaps you are someone who has never had experience with martial arts and are finding an interest. Regardless of your past experience, Tiger Rock Martial Arts-Frisco can provide the services you are looking for. With our team of instructors, you will find what you are looking for.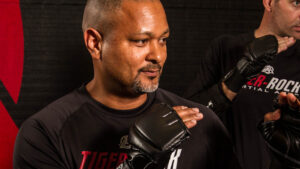 Tiger Rock Martial Arts have been around since 1983. Since our inception, we have grown into the nations largest and most well-known martial arts franchise. Today, we have over a hundred location across the country. We are a martial arts franchise that truly believes in empowering each and every student we come across. Whether you are a toddler or nearing retirement, you will benefit from learning martial arts here at Tiger Rock. At each and every dojo we have a team of certified instructors who have the experience you are looking for. They are master in Korean Taekwondo and will provide the guidance and help you need most. We believe that it is never too late to learn martial arts. And if you are an adult that would like to improve your physical health, mental health, and increase your confidence, this is the place for you.
Martial Arts for Adults Frisco
Everybody has the desire to better their physical health. And this is one of the many benefits you will get when joining Tiger Rock. Speed, agility, stamina, flexibility, and strength are something that everybody wants more of. And the training you will experience here will enhance your body's physical health to a new level that you never thought was possible. Here at Tiger Rock, our instructors can help you push yourself past what you thought was possible. While making sure you have all the guidance you need to succeed in your goals. Nobody can do it alone, but with our team behind you, you will be able to exceed all your goals.
There are many steps to our programs. And there are no shortcuts when you are learning martial arts at Tiger Rock. This is one of the main reasons why you will see an improvement in your discipline, health, and confidence. Our expert instructors are here to guide and help you. But they cannot do the work for you. You must put in maximum effort to succeed. To keep pushing people we have numerous ranks that we incorporate into our program. And each and every student will have to earn their way toward the next belt. While this is not going to be necessarily easy, we believe that everyone can do it.
Mental Benefits of Martial Arts for Adults
Are you struggling to complete tasks at work? Maybe you are not able to stay focused at work, and it is beginning to affect your work. If this sounds like you, you should definitely consider signing up for our martial arts courses in Frisco. Research has shown that there are many mental benefits of learning martial arts. When you are dealing with a lack of focus and discipline, one of the best things you can do is increase your daily exercise. Enrolling in a martial arts program will better your discipline and focus.
Self-Defense for Adults Frisco
Are you someone that walks home alone from work late at night? If you are walking home from work late at night and a predator approaches you, knowing how to defend yourself could save your life. We understand how important self-defense training is here at Tiger Rock. And in our self-defense class, we will teach you the skills you will need when you need to ward off an attacker. Your life is priceless and it is worth protecting. Call our expert team members and ask us how you can enroll in a self-defense class today.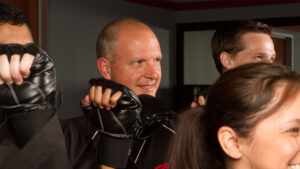 Contact Tiger Rock Today!
If you are considering signing up for Adult Martial Arts Classes Frisco TX, we highly recommend calling Tiger Rock Martial Arts- Frisco. It is never too late to improve your confidence, discipline, and strength. And this is exactly what our class can help you with. For more information on the classes, we offer as well as other details, get in touch with our representatives today. We can help you find a time slot that fits your busy schedule and start you on your journey towards improvement today.
Information About Frisco, Texas
Frisco has the nickname "Fargo South". Our town traces back to years ago when it was mostly used as a rural area, but that is quickly changing.

Our town sits in the Collin and Denton counties of Texas, but we're not too far away from the Dallas and Fort Worth areas. If you want a growing culture and business scene that's full of opportunity, Frisco is the place for you.

To learn more about Frisco click here.