Frisco Texas Women's Self-Defense Classes Near Me
Are you beginning to feel like you are never going to find the right Frisco Texas Women's Self-Defense Classes Near Me for you? Maybe you are wanting to learn how to defend yourself in case of an attack. If you are trying to figure this out but you do not know where to go, Tiger Rock Martial Arts- Frisco can help you. Our team of experts is here to provide you with the classes you need to succeed if you ever have to defend yourself. Read more to learn about what we can do to assist you.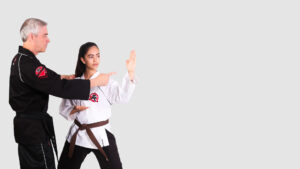 Founded in 1983, Tiger Rock Martial Arts is a nationwide martial arts franchise. We are one of the most successful and largest martial arts franchise. Today, we have over a hundred location across the nation. And we equip every location with a team of expert professionals who have mastered the traditional form of Korean Taekwondo. We have the skills and knowledge to ensure that you are equipped with the best self-defense skills possible.
Unfortunately, in today's society, women are at times targeted by assailants. Many attackers, burglars, and other criminals prey on females who are walking home late at night. While this is the truth of life, it is important to make sure you can properly protect yourself. While carrying your keys in your hand or pepper spray is always a helpful tip. It may take more than that. Many criminals are not properly trained in hand-to-hand combat. And you would be surprised how effective a few defensive moves can be in times of trouble.
Women's Self-Defense Classes
Are you beginning to worry about your late night walk at home? Maybe you are frequently taking jogs at night and you are beginning to feel unsafe. It is important to not allow these fears to take control of your life. Threats are very real and are around every corner. However, you have a team behind you and will prepare you if your path crosses with danger.
Our Frisco Texas Women's Self-Defense Classes Near Me course is an intense program that provides you with the skills you need to face real-life combat. We understand that this is a tough situation for anyone to be in. And you will not have much time to react if it happens to you. Our instructors provide you with hands-on training that will help you learn how to defend yourself. We create real-life scenarios so you can practice your reactions time and know what to do immediately with the skills you are learning.
Here at Tiger Rock, we work with people of all levels of physical fitness. So, even if you do not consider yourself currently physically fit, you will definitely notice improvements by committing yourself to a program like this. The series of punches, knees, and kicks we teach will provide you with the guidance you need to ward off an attacker. But will also increase your physical fitness levels. If you are worried about your physical fitness level and you do not know how you are going to improve it? We can help you here at Tiger Rock. Our self-defense classes will train your entire body. Even your core will become much stronger just by following our directions and showing up to class regularly with your best efforts.
Self-Defense Classes
Everyone knows that there are many physical benefits of taking a self-defense course. However, there are mental benefits as well. If you are feeling insecure about your mental fortitude and you want to improve it, let us know. Martial arts is a great way to increase your focus and mental sharpness. Are you struggling to focus throughout the day at work? If this happens to you frequently, you might feel like there is nothing you can do about it. However, sharpening your mind with karate is a very common solution.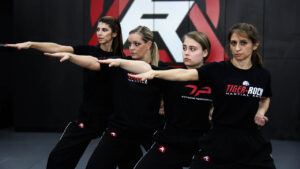 Even though our self-defense classes are geared towards students over fourteen. We do have classes for children as well. We train children as young as four years old. Teaching them danger awareness, focus, and discipline. We believe that it is never too early to teach kids how to defend themselves and why it is important. Parents tell us that when their children attend our dojo, they have better grades, a decrease in bullying, and more attentiveness is common benefits of martial arts. We are always trying to help the next generation, and we could not be prouder of our students!
Call Tiger Rock Today!
When you are looking for a Frisco Texas Women's Self-Defense Classes Near Me program, make sure you choose Tiger Rock Martial Arts. We have a team of instructors who are ready to provide you with the setups and instructions you need to learn real-life combat. For more information as well as our most recent schedule, contact us today. By calling our number, you can get details on our introductory bundle as well as available class times. We are continually adding new time slots to accommodate our customers.
Information About Frisco
Frisco is a city that sits within the Collin and Denton counties. What a great place to be in Today's Texas.

Fargo South is one of the many nicknames Frisco has. While our city isn't the biggest in the entire state, we have a bountiful amount of character.

There are well over a hundred thousand people living in Frisco.

While Frisco has rural roots, this small Texas town is quickly becoming a hub for business. If you're looking to start a venture in a strong community with power players from all types of backgrounds, Frisco is the place to be.

To learn more about Frisco click here.