Frisco TX Self-Defense Classes Near Me
Have you been searching for Frisco TX Self-Defense Classes Near Me? But you are not sure where to go? Maybe you are beginning to realize that you need to be able to protect yourself against possible attackers. If you are ready to learn you to defend yourself from the best, Tiger Rock Martial Arts- Frisco is the place for you. Our martial arts academy has a team of certified instructors who are ready to provide you with the solutions you are looking for.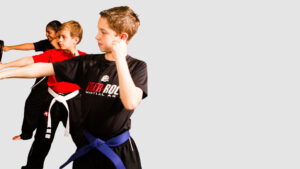 Tiger Rock Martial Arts have been around since 1983. We are currently the most popular and largest martial arts franchise across the country. With over a hundred locations nationwide, you will be able to count on us to provide you with the training and motivation you need. Our team of martial art experts is more than qualified to train you in self-defense. When you take self-defense classes, you will see your physical and mental capabilities grow past their current limits.
Self-defense is something that everybody should know about. Regardless of the type of life you live, there are criminals and predators lurking around every single corner. And you will want to have the training and tools necessary to overcome threats if you are facing an attacker. Are you worried about what will happen if a stranger approaches you in the middle of the night? Are you some that frequently jogs in the park at night alone? What if someone tries to attack you? We guarantee you that you will not have much time to think or react. Therefore, you are going to require self-defense training and techniques to get out of this unfortunate situation.
Frisco Self-Defense Classes
Our certified instructors teach you how to handle real-life fighting situations. We understand that whether the assailant is armed or not, it is important to be able to ward them off effectively. We give our students hands-on training that teaches them how to handle incoming attacks and assaults. When you take a self-defense course with us, you will be able to protect yourself, ward off your attacker, and become a stronger person.
Are you currently unhappy with your physical fitness? Maybe you are easily tired after going for a walk in the neighborhood. If you are noticing that your endurance is not where it used to be and you are ready to change, we can help. Our self-defense training improves stamina and promotes cardiovascular well being. If you are ready to start handling more exercise, running, and other high-intensity activities, start with self-defense classes. Another part of our self-defense classes is the added strength you will experience. Many of our students feel like they can't learn self-defense because of their current strength level. When you learn self-defense you will see your upper and lower body strength increase, and your mind will benefit as well.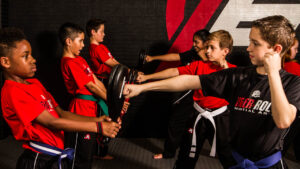 We all know what it is like to lose focus throughout the day. But are you beginning to lose focus more and more? Perhaps you are beginning to doze off very frequently at work or school? Maybe you are not focused like you used to be. If this sounds like you, we highly suggest finding a martial arts dojo in Frisco to go to regularly. Not only will you be able to get some quality exercise, but you will also gain the skills to remain mentally strong throughout a day.
Frisco Self-Defense Classes for Kids
We have classes that are available for all ages. In addition to providing adults with the experience and guidance they need. We can also help children who are as little as four. It is never too early to learn how to defend yourself by using martial arts. If your child walks home from school, they should have the knowledge and tools on what to do is someone they do not know approaches them. We teach kids the importance of danger awareness, focus, and discipline to know when someone may not be a good person.
Contact Tiger Rock Martial Arts- Frisco Today!
Something else that helps us stand apart from other self-defense classes in the Frisco area. Is the fact that our class times are so scattered, frequent, and popular. We understand that children and adults these days are extremely busy with school, work, and other after-school activities. As a result, we have continued to open up new times for students. We are now open in the mornings, afternoons, evenings, and even weekends!

When you need the best Frisco TX Self-Defense Classes Near Me in town, contact Tiger Rock Frisco today. We have a team of instructors who would love to help you begin your journey towards martial arts mastery. For more information on how we can provide you with the tools you need, call us today. We can set you up with our introductory course bundle that will give you an idea of what it is like to be a student here.
Information About the City of Frisco, Texas
Frisco, Texas is a great place to live if you're looking for something different.

Our city is based in two places: Collin County and Denton County.

We pride ourselves on having a great foundation for our citizens.

Did you know that Frisco is a great place for a real estate? If you're looking for an affordable way to find rent, mortgages, and home prices you can access, Frisco is the place for you.

Frisco is an amazing place to set your fag. If you want more information about our city, make sure you give us a visit.

To learn more about Frisco click here.