Frisco TX Self-Defense Classes
Have you been searching for Frisco TX Self-Defense Classes? But you do not know where to start? Maybe you are trying to learn how to properly defend yourself from potential attackers. If you are trying to find the best self-defense courses in Frisco, we are here to help. Tiger Rock Martial Arts- Frisco is a dojo that you can trust to provide you will the best self-defense training around.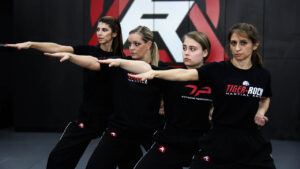 Tiger Rock Martial Arts were founded back in 1983. And we have become the most respectable name in the business of martial arts. Today, we have one a hundred location across the country. And we are the largest and most successful martial arts franchise. You are probably looking for a dojo that has a tried and true method of helping their students grow. If this sounds like you and you are ready to commit to yourself transformation, we can help. Our instructors are here to push you past your limits and towards being a better martial artist.
Self-defense is something that should be taken very seriously in today's society. There are criminals, predators, robbers, and assailants lurking around every single corner all the time. And you ever know when you might need to protect yourself from an attacker. Maybe you are someone who walks home from work late at night. And you are beginning to feel uncomfortable on uneasy. If you are beginning to feel like you do not have what it takes to protect yourself against these types of people, reach out to us.
Self-Defense Classes in Frisco
Here at Tiger Rock, e understand how important it is to be able to defend yourself. You simply never know when someone may attack you, and it is important to stay prepared. If you are beginning to feel like you do not have what it takes, we are here to help you. Our goal is to prepare you for real-life combat scenarios. Because what if an armed or unarmed assailant comes rushing at you, what are you going to do? You will not have time to run, panic, hesitate, call for help, or scream for help. So it will just be you and the attacker. If you do not know how you would handle yourself in this type of situation, you may want to consider enrolling in one of our programs.
Our instructors are always trying to push our students to hit the next level, and our Frisco TX Self-Defense Classes reflect that. We use hands-on training to make sure you are getting used to real-life combat. Keep in mind that this may get intense at times, and we do not want to frighten or discourage anybody. It is just the most efficient way of making sure you understand what to do in a real-life situation. If you are trying to sharpen your mind and instincts, Tiger Rock is a great place to train at.
Benefits of Self-Defense Classes
In today's society, it is important to be able to process things quickly. Not being able to properly process your attacker's moves can be the difference between life and death. Which is why this is something we work on in our self-defense classes. We will train your reaction times and give you the guidance you need to protect your life. When you have our team of instructors around, you will never have to worry about figuring out how to defend yourself quickly if an attack arises.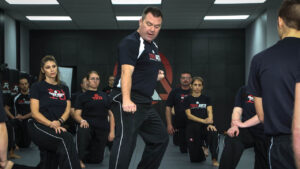 Did you know that self-defense courses can help you grow not just physically, but mentally as well? Discipline, focus, and self-esteem are some of the main things that karate can help with. Are you currently not very confident in your ability to succeed and overcome? Maybe you are not able to focus at work or school throughout the day. Whatever the case may be, enrolling in one of our classes can help you sharpen your mind. You will learn the discipline and focus you need to overcome any attacker that comes your way.
Call Tiger Rock Today for More Info on our Services
When you are looking for Frisco TX Self-Defense Classes, you have every right to be overwhelmed. There are a lot of different choices out there, and it is important to find the right courses for your needs. If you are ready to figure out what to do to get the most out of your physical and mental capabilities, call us today. Our instructors can provide you with our current class times and give you more info on our introductory course package. We want our students to succeed, and our team is ready to help you do this. Contact us for more details.
Information About Frisco, Texas
Frisco, Texas is a small town in Texas that's quickly on the rise.

This town is located within two counties, which is rare in the greater parts of America. We sit in Collin AND Denton!

Check out our most common nickname:

Fargo South

Frisco, Texas is a town that used to be mostly used in rural practices. However, today, we are quickly modernizing and becoming a hub for culture and business. Visit Frisco to see for yourself! You won't regret it.

To learn more about Frisco click here.