Karate Classes for Kids Near Me Frisco TX
Are you trying to find the best Karate Classes for Kids Near Me Frisco TX for you and your family? Is your child beginning to show more interest in learning karate? But you do not know where to turn? Before giving up all hope that there is not a karate dojo for your child, make sure you reach out to Tiger Rock Martial Arts- Frisco. We have a team of certified instructors who want to make sure your child masters karate and gets the most out of our classes. Read more to find out details about what we offer at Tiger Rock.
When your kids are going through problems at home or at school. As a parent, you want to help them get through it. Many parents deal with behavioral or academic problems on a regular basis. And too many of them fail t get to the root of the problem. Is your son failing to complete his homework? Perhaps your daughter is not getting along with her friends or teachers and you do not know what to say to help her. If this sounds like something you are going through, our academy can help you.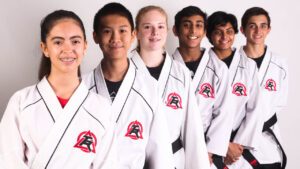 Here at Tiger Rock Martial Arts, we can help you because we have been around since 1983. And we have the experience of helping parents just like you. Ever since our inception, we have grown our business to include over a hundred location across the country. We are proud to call ourselves the most popular and largest martial arts franchise in America. And we are continuing to expand our brand. Each and every dojo has a team of certified instructors who are masters of Korean Taekwondo. If you want your child to be guided by some of the best in the country, this is the place to be.
Karate for Kids Frisco
In our karate classes for kids, we provide our students with structured lessons plans and classes that will help the truly master karate. As well as master their personal goals. Kids are always trying to absorb knowledge, but they are not always the most focused group to work with. All children want to be involved programs and classes that are fun and keeps their attention. They do not want to be in a class that does not hold their attention the entire time.
While we believe in pushing each and every student. You can count on our instructors to keep your kids fully engaged, all class period. We understand that children do not have the longest attention span. Which is why we have tailored-made programs to combat this. Our expert instructors have plenty of experience working with youth from different backgrounds. And they will make sure your child masters karate.
Benefits of Karate for Kids Frisco
Physical fitness is a major aspect of our dojo. We take cardiovascular health very seriously. Is your child facing high cholesterol? Perhaps diabetes runs in the family and you are worried that your child will get off to the wrong foot. Like every muscle in your body. It is important to make sure that your heart gets the exercise it needs to stay healthy. Enrolling your children in a martial arts class can do wonders for your child's health.
While physical fitness is extremely important. You also cannot ignore the mental aspect of your child. Are you beginning to notice that your child is not as focussed as he or she needs to be? Maybe they are lacking self-esteem and you would like them to have more confidence in themselves. If you are a parent, you want to give your son or daughter everything they need to succeed in life. And having strong mental health is important for any child to have to succeed.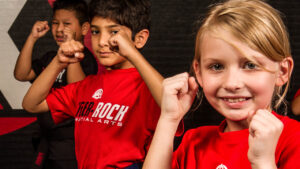 Discipline is a key component of our program. Are you noticing that your child is lacking discipline at home or school? Here at Tiger Rock, there are no shortcuts when it comes to ranking up in our courses. And every student will have to earn what they receive. This is something that will definitely help build your child's discipline, confidence, and self-esteem. Kids love to level up, earn new belts, and learn new techniques. They will be challenged and pushed to their limits. But you can count on our instructors to always guide them in the right direction.
Call Tiger Rock Today For More Information!
Choosing the right Karate Classes for Kids Near Me Frisco TX programs for your child is an extremely important decision. It is absolutely critical that you make sure your children are integrated into an atmosphere that will help them become the best people they can possibly be. If you are trying to find a place that they can grow both mentally and physically, choose Tiger Rock Martial Arts. Our representatives and instructors are always available to answer any questions you might have about our programs. Give us a call today and learn what we can provide to you and your family!
Helpful Facts About Frisco, Texas
Frisco is a small Dallas suburb that lies within Collin County. As one of the smaller cities in Texas, it's not well-known outside of this state, but our star continues to rise regardless.

Years ago, Frisco was mostly known for our farming success. In today's society, we continue to thrive off our booming real estate market.

Many people move here because they're able to find quality homes at affordable prices. Many of the residences here are less than fifteen years old, and there are plenty of styles to choose from. If you're interested in affordability and safety, we can help you find what you're looking for.

Frisco has a bevy of different parks that we are very proud of. If you have children who are interested in playing outdoors, we think you'll enjoy the community we've built.

Entrepreneurs and businesspeople have found great success in our town. If you're trying to get the most out of your business, we think you'll have a shot at superstardom if you move to Frisco.

To learn more about Frisco click here.