Karate Dojo Near Me Frisco TX
Are you trying to find the perfect Karate Dojo Near Me Frisco TX where you can learn to master karate? Perhaps you are looking for a dojo where both you and your children will be able to master karate. If you are looking for a dojo that offers karate classes that will help you grow both mentally and physically, Tiger Rock Martial Arts- Frisco is the perfect place for you. Read more to find out how we can help our students transform their mind, body, and souls.
Do you have young children that are struggling in school? Perhaps their grades are beginning to slip and you have no idea what to do. Or maybe they are struggling with making friends at school. If tutoring, punishment, and other forms of motivation are not working. Enrolling them in martial arts can be great for them. Research shows that when kids are exposed to karate at an early age, it will help them develop into well-rounded adults. Getting your kids involved in a karate dojo can only improve their social skills, their grades, and have a lasting positive effect on their lives.
Is your child having problems respecting teachers or peers? Enrolling your kids in a dojo can also provide your kids with an avenue that helps them learn to b more respectful to others. At Tiger Rock, we emphasize respect in every class. And teach students that respect is something that needs to be earned and maintained. Our expert instructors have decades of experience working with kids. And they are ready to teach them not only karate. But life skills that can take with them through life. We believe that having your child involved in this type of environment can help them become much more disciplined and respectful.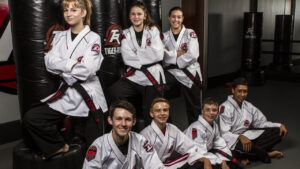 Karate Dojo Frisco
Your child may be showing interest in learning karate. But are you also showing interest in learning karate with your child? Perhaps you are an adult that is struggling with your physical health. In this day and age, we are all guilty of sometimes being too sedentary. When this happens, you may notice that you are having problems with your stamina or strength. We understand that this can be discouraging. You can rest easy knowing that Tiger Rock is here to help you improve your physical health.
Here at Tiger Rock, we have many programs that are specifically geared toward providing adults with the exercise they need to live a healthier lifestyle. Martial art is a great form of exercise. But we take it a step further. With our skills training programs being widely available, you will be able to increase your flexibility and cardiovascular health steadily.
We all know that children can sometimes have difficulty with discipline. But adults can be struggling with this as well. Are you having difficulties focusing on work? When this happens, you are probably noticing that you are not able to complete as many things at work. Not being disciplined can negatively affect your life and it is important to do something when you notice this happening. One of the best benefits of enrolling in karate classes is being able to increase your discipline.
Self-Defense for Kids and Adults Frisco
Does your child often walk to school or walk homeschool? Perhaps you go on late night walks and you are worried about your safety. Unfortunately, we live in a society where there are criminals and predators lurking around every corner. And kids and adults need to be prepared in case you ever need to defend yourself. At Tiger Rock, we believe that self-defense is a skill that everybody should learn and have. When you take a self-defense course with us, you will properly arm yourself with the skills and training you need to ward off an attacker.
Call Tiger Rock Today!
Do you have a child that enjoys healthy competition? Perhaps you have a child that needs to learn to lose graciously. Whatever the case may be, at Tiger Rock, we embrace healthy competition. We are always trying to push our students to grow in their skills, and believe that competing is a great way to make this happen. We provide healthy and engaging opportunities for our students to compete at a nationwide level. Our competitions will not only enhance your child's skills. But they will also learn how to win and lose graciously at every event. While our competitions are not mandatory, if you commit to this, our instructors can help you prepare you for your sparring match with a similarly skilled opponent.
We are constantly committed to providing both children and adults with the best Karate Dojo Near Me Frisco TX classes. If you are looking for an experience that can enhance your physical and mental capabilities, call us today. Our representatives can help you find a time slot that fits your busy schedule so you can begin your transformation. Our experienced instructors are ready to provide you with the resources and instructions you need.
Helpful facts about Frisco, Texas
Frisco is a small town that is located in Collin County. As a small suburb that sits near Dallas, it is considered to be part of the DFW greater area.

You might not be familiar with our city, but that's okay. Over the years, we have been steadily outgrowing our old reputation as a town for farming.

Today, we have numerous job opportunities and business expansions in our town. Companies have taken notice of what we're doing, and we'll be here for years to come.

Are you trying to find the right home for your family? If you're not having too much success on your own, your dream house might be right here in Frisco!

Our real estate prices continue to drop, and the quality of the houses here continue to rise.

To learn more about Frisco click here.