Karate for Adults Frisco TX
Are you having problems finding the right Karate for Adults Frisco TX classes and you are not sure what you are looking for? In the Frisco area, there are many karate studio and dojos to choose from, but you probably want to find a dojo that meets all your needs. If you are trying to find a dojo where you can transform not only physically, but mentally as well, we can help. Tiger Rock Martial Arts- Frisco, is a karate academy in Frisco, Texas that is ready to unlock the potential within you.
There are many benefits that one can gain by enrolling in karate classes. If you are dealing with issues regarding your flexibility, endurance, strength, stamina, speed, a consistent karate regime can help you overcome this. We believe that it is important to get the most out of your mind, body, and soul. So, if you are ready to begin your transformation, our certified instructors can help.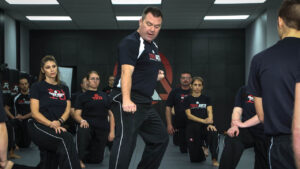 Are you beginning to feel like you can't stay ahead of work? Even though it seems like you are working more hours every single day. Perhaps you are beginning to feel like you are not able to reach the daily goals you set for yourself. And now you do not know what to do. If this sounds like you, we highly suggest enrolling in a karate class. Mastering martial arts and seeing yourself go through the many steps that our courses have to offer can increase your discipline and self-motivation. At Tiger Rock, there are no shortcuts. Which means you will have to commit yourself fully if you want to see improvement. Though it will not always be easy, we promise it will be more than worth it.
Benefits of Karate for Adults Frisco
There are many benefits of enrolling yourself in a karate class. Learning martial arts can reduce stress, enhance discipline, and ensure that your physical and mental health are truly healthy. Many people drop these types of activities as they reach adulthood. Because they do not realize the many benefits they can gain from it as adults. They do not see the benefits as easily, but visiting a dojo like ours on a weekly basis can do wonders for your mind and spirit.
Life as an adult is not easy, and there are probably numerous stressors that are dragging you down. Which is why most of us, when we get home from work and guilty of spending the entire night in front of the television. But wouldn't you like to find a healthier way to de-stress after work? If you are, then trying a karate class cannot hurt you. And you can see for yourself the many benefits it can provide for your life.
Are you someone that is worried when walking home from work late at night? In today's world, you never know when an unexpected threat may creep upon you. As a result, it is important to make sure that you are able to defend yourself. When you enroll in martial arts you are gaining the skills you need to be able to ward off an attacker.
At Tiger Rock, we believe in healthy competition is important in helping our students grow their skills. Do you enjoy competitions? If so, at Tiger Rock we have local, regional, and nationwide tournaments on a yearly basis who those who want to participate. While winning is not everything, it gives students the opportunity to grow their skills, meet new friends, and see the areas they need to work on. If you are interested in competing at Tiger Rock, our expert instructors will help you prepare to achieve the best possible outcome for your match.
Call Tiger Rock Today For More Information
Are you someone that leads a very busy life and you are not sure how you are going to take classes? Our staff is always adding new class times, and we have a schedule that can fit almost anybody's busy routine. With classes in the mornings, afternoons, evenings, and even weekends, we are confident that you will be able to find a slot that fits your needs. We will provide you with the resources you need to regularly attend classes without sacrificing other aspects of life.
If you are still on the fence on whether or not to join karate classes. Then, we highly suggest trying out our introductory classes. At Tiger Rock, we offer all prospective students a package of three classes that are followed by a performance evaluation. This package can provide you with an in-depth look at our dojo and give you a taste of what we have to offer.

When you need Karate for Adults Frisco TX, call Tiger Rock Martial Arts in Frisco. With years of experience, you will be able to count on our team to help you reach your goals. If you are ready to figure out the best way to enhance your mental and physical capabilities, contact us today. Our experts are ready to answer any questions you might have before signing up. Call us for more information!
Information From Frisco, Texas
Frisco is a Dallas suburb that sits within Collin County. It is part of the greater Dallas-Fort Worth area.

If you have an interest in real estate, this is a great place to call home. Our robust market offers consumers a large array of options for affordable prices.

Our town used to be a place for people to farm, buy, sell, and trade. However, as we become more and more modernized, we're beginning to come into our own as an economic powerhouse.

Many jobs are creating employment opportunities here, and we couldn't be prouder. Our citizens love the job opportunities, and they make our city better.

To learn more about Frisco click here.