Karate for Kids Frisco TX
Finding the right Karate for Kids Frisco TX classes can be difficult if you do not know where to start. Are you trying to find a martial arts dojo that can provide you or your child with consistent and challenging classes? If so, Tiger Rock Martial Arts- Frisco may be the perfect place for you and your family. Read more to find out how our certified instructors can help you on your karate journey.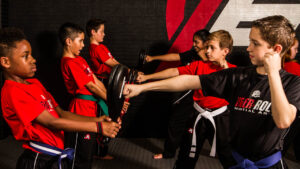 Is your child currently struggling in school? Perhaps they are having behavioral issues at school and at home. And you are not able to get this problem under control. This is something that many parents have the deal with. And we understand how overwhelming this can be. If you are trying to find a solution that will help with a multitude of problems, enrolling your kids in Tiger Rock is a great way to start. We have classes that are geared specifically towards children that will help them grow in more ways than one.
Karate for Kids
Here at Tiger Rock, we believe that is it never too early to start growing your child's character. As well as their physical and mental capabilities. All parents what their kids to grow up to be well-rounded adults. And developing discipline, focus, and self-confidence at an early age is a great way to do just that. If you enroll your child at Tiger Rock, they will be placed in karate classes that will challenge and engage them. We understand that children have a short attention span, which is why we help them grow this. While also providing a class that is fun and they will enjoy the entire time. We have instructors are courses that allow children as young as 4 years old to learn karate, get better, and have fun in the process.
Our Tiger-Cubs program is geared for children 4-6 years of age. This is an action-packed 30-minute classes. Where toddlers will learn the importance of danger awareness, focus, and discipline. Furthermore, we also offer classes for our teens as well. Is your son or daughter struggling to make friends? Perhaps they are having trouble staying focused in classes and daydream a little too much. Our teen's classes will instill the discipline and focus your child needs to succeed in life.
Does your child enjoy healthy competition? Perhaps you have an extremely competitive child. But they never get to express this in any kind of way. If your child is interested in competing at a nationwide level, Tiger Rock is a great place to be. We have tournaments and competitions that will allow your child to test their skills against other students who are learning martial arts. Competition is a great way to develop your skills. We encourage you to take advantage of these programs that Tiger Rock provides.
Karate Benefits
Martial arts is a great way to improve your mental toughness. There is a lot of concentration that has to go into growing and achieving the next rank in our Tiger-Rock programs and courses. Is your child have trouble keeping concentration at school? Our karate classes encourage students to make strides both mentally and physically. And helps every student grow their concentration. Our instructors will give you the guidance you need and ensure you are succeeding.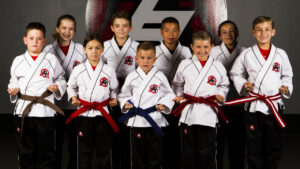 Are you beginning to notice that your child is not as flexible as they once were? Maybe their cardiovascular health is not where it needs to be at. Our striking and kicking drills will give you the exercise you need to build your physical strength. Not only will your upper and lower body strength improve, but you will also be able to enhance your flexibility. Does your child come home every day from school and run to the couch or video games? Our lives are becoming more and more sedentary, and it is important to keep your body active. If you are trying to make sure your child stay healthy, take advantage of martial arts classes and programs.
Contact Tiger Rock Today!
Finding the best rates for courses like these is not always easy. These are a lot of karate studios to pick from. And we understand that you do not eat to waste money on something that does not work for you and your family. If you are still skeptical of martial arts, we suggest you try out our introductory course package. You will receive three sessions, a performance evaluation, and more details about how we can help you improve. We are here to make sure you get the most out of our classes.
When you need the best Karate for Kids Frisco TX in the city, count on Tiger Rock. Our team of certified instructors and karate experts are ready to provide your child with optimal courses and programs. Our classes help students of all ages improve both mentally and physically. For more information on how our martial arts experts can help your life, call us. Our team can give you more information on the classes we offer.
Fun Facts About Frisco
The city of Frisco is the proud recipient of the 2006 Texas Recreation and Parks Society Gold Medal. We have over twenty parks around town!

Our unemployment rate is consistently under 1%, and we continue to add high-quality jobs to our community.

As a Dallas suburb, the city lies within Collin County and is a part of the greater Dallas-Fort Worth metropolitan area.

Frisco continues to be one of the fastest-growing towns in the country. With low real estate prices, safe communities, and a booming economy, Texans are beginning to take notice.

Frisco used to be a hub for farmers in Texas. It was a great place for both buying and selling, and to this day, we still have local farmers who still operate right here.

While we retain our rustic atmosphere, many of the institutions and buildings you see here today are fairly new. Most of the houses are under fifteen years old!

To learn more about Frisco click here.