Karate For Kids Near Me Frisco TX
When you are looking for Karate For Kids Near Me Frisco TX, it is incredibly important to pick a dojo that can meet your child's needs perfectly. Is your child showing interest in learning Karate, but you still have not found the right karate academy for your family? If this sounds like you, Tiger Rock Martial Arts- Frisco is the perfect place you and your family. Our trained instructors are ready to help your child reach their goals and master karate in a timely manner.
TRMA
Tiger Rock Martial Arts were first started back In 1983. Today, we are currently the largest and most well-known martial arts franchise in the country. Our team of certified instructors has decades of experience teaching people from all different backgrounds. Whether you are a child, teenager, or an adult who is trying to learn karate. We have the experience necessary to assist you in reaching your goals. When you are looking for the best karate academy, choose Tiger Rock of Frisco, Texas. Our professionals will not let you down. And you will definitely see a transformation taking place if you trust our program.
Here at Tiger Rock, we have numerous classes that are geared specifically towards children. We truly believe that it is never too early to get our child exposed to karate. There has been countless research done over the years that show the many positive effects that martial arts can have on children. We understand that when children are challenged, engaged, and having fun, they are at their best. At Tiger Rock, we have a team of instructors who want to help you unlock your child's full potential. So they grow into being well-rounded adults. Which is what all parents want to see in their children.
Karate Classes for Kids Frisco TX
Are you having disciplinary problems at school? Perhaps your son is having problems not listening to anyone at home or school. And he is very hyperactive. If this is something you are struggling with, karate could be a great outlet for your child. We definitely want our kids to have fun and stay engaged. But we also teach our students to respect at the forefront. Our instructors do a great job at teaching kids what respect means and why it is so important. We will give your child the guidance and help they need to be successful in our program.
Benefits for Kids
Is your child having trouble with behavioral problems at home and at school? Perhaps they are getting called into the principles office a little too often, and you do not know how to handle this. Discipline is something that everyone needs to be successful in life. And it is one of the biggest benefits of studying martial arts. At Tiger Rock, there are no shortcuts, and each and every student will have to work hard to reach the next level of mastery. So, if your child is having trouble reaching their goals or behaving correctly. Martial Arts would be a great outlet for them. Make sure you are equipping your kids with the right tools by exposing them to karate at an early age.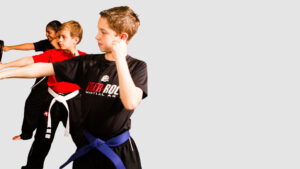 Are you noticing that your son or daughter is having trouble focusing at work? Perhaps their grades are beginning to slip and know they can do better. And you do not know what to do. When tutors are not helping, we highlight recommend trying out martial arts. Martial arts teaches students how to become more focus. And when they practice being focused on a regular basis in karate. This will be able to translate to their daily life.
Best Karate Classes Frisco TX
There is countless research that shows the benefits that martial arts can have on your child's mental health. While some parents may think that karate is just a series of strikes, kicks, and movements. That could be further from the truth. Not only does karate improve physical health, but it also trains the mind and soul to be better as well. Here at Tiger Rock, our instructors want your child to develop the self-confidence, discipline, and mental fortitude they will need to grow into well-rounded adults.
Call Tiger Rock Today To Learn More!
Finding a Karate For Kids Near Me Frisco TX is not always the easiest thing. After all, there are so many karate studios out there, and you may not know which one is the best fit for you. If you are still searching for the perfect place, we highly suggest reaching out to Tiger Rock Martial Arts.  We offer introductory course packages that help you find out whether or not our dojo is the right spot for you. You will not regret giving Tiger Rock a shot to be a part of your life! 
Information On Frisco 
Farming used to be the calling card of Frisco, but in today's society, we are continuing to keep up with the rest of our state. Many businesses are starting to operate out of Frisco, and we couldn't be happier.

There is no shortage of fun in Frisco, Texas. If you're interested in going to an upscale restaurant with high-end dishes, this is the community for you. You'll also be able to regularly enjoy festivities at the Pizza Hut Stadium.

Be sure to check out the outdoor activities you can experience in our city! We have parks and golf clubs all around our city. If you're trying to spend a nice morning on the green, we think you'll love living here.

To learn more about Frisco click here.