Karate Lessons Near Me Frisco TX
Choosing the right Karate Lessons Near Me Frisco TX can be a tough decision to make if you do not know where to start. Are you beginning to show an interest in learning martial arts? Because you think it can help you develop into the person you have always wanted to be? If you can't find to locate the perfect karate dojo for your needs, Tiger Rock may be the perfect dojo for you and your family. Read more to learn how we can help you achieve your dream and become the person you have always wanted to be.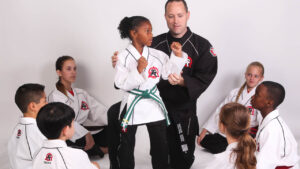 We do karate classes a little bit differently here at Tiger Rock Martial Arts- Frisco. When you come to our dojo, you will be able to experience a martial arts franchise like no other. Tiger Rock Martial Arts have been around since 1983. And our brand has developed over a hundred locations nationwide. Today, we are known as the nations largest and most-successful martial arts franchise. So, if you are trying to find a karate dojo that will give you stability and consistency, this is the place for you. Our instructors are certified and experienced in physical and mental transformations. Let us know what your goals are so we can start putting together a plan.
Are you have problems maintaining your focus either at work or school? If so, did you know that karate can help you improve your focus? We understand that in today's society, it can be easy for us to have short attention spans and lose concentration throughout the day. But if this is something that is occurring more frequently. You may be noticing that you are getting less and less done throughout the day. If this sounds like you, we can provide you with an introductory course package that will help us evaluate your performance and see where you are at. Once that happens, we will be able to help you find the right classes and programs that will assist you in your transformation.
Karate Lesson in Frisco
Do you have children that are also beginning to show an interest in learning karate? In addition to working with adults, our professionals also have many classes that are geared specifically towards children. So, if you have a 6-year-old or even a 13-year old that is wanting to learn karate, we have the classes for them. They will be able to develop skills such as discipline, focus, danger awareness, and much more. If this sounds like something your child would enjoy, then stop on by, we would love to meet you both.
At Tiger Rock, you will be getting the physical exercise and health that you need. We have striking, kicking, and other physical drills that are a big part of our services. But there is much more to our classes than just your physical health. We want all our students to be mentally healthy as well. We believe that martial arts are something that will require you to have a great mental toughness and a constant desire for more knowledge and skill.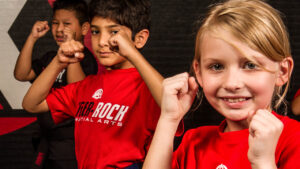 Are you prone to mental lapses at work or school, and they are beginning to frustrate you and bear negative results? If you would like to stop this problem before it gets out of hand, we highly suggest reaching out to us. Our instructors are here to guide you through your specific path. And make sure you have the resources to overcome these struggles and become a stronger version of yourself.
Tiger Rock Experience
Here at Tiger Rock, there are no shortcuts to succeeding in our classes. While we make sure that all our students are having fun and staying engaged in classes. We know when it is time to get serious. If you are trying to get the most out of this program, it is imperative you take whatever current ranking you have seriously. Only then will you will be able to share what you learned, demonstrate your skills and growth, and move to the next ranking.
Are you someone that enjoys healthy competition? But you have not found a dojo that embraces competitions? If you are looking for a dojo where you will be able to test your skills against your peers, we think you will find what you need here at Tiger Rock Martial Arts. We hold yearly nationwide tournaments that give our students a chance to go up against each other. If you have an interest in sparring competitively, reach out to our instructors. We can give you more information on this so you can begin sharpening and honing your skills.
Call Tiger Rock Today For Additional Info!
When you're having problems choosing a Karate Lessons Near Me Frisco TX, you can't go wrong with Tiger Rock. With years of experience and a team of certified instructors who are ready to help you. You will have the team you need to succeed. Contact us today to make sure you have the resources you are looking for. Our instructors are eager to help you begin your transformation into mastering karate.
Info From Frisco, Texas
While it's not one of the most well-known areas in Texas, Frisco continues to be a rising star in our state. Our population continues to grow!

Our economy is also a rising star. Many real estate opportunities are available here, and you'll also be able to enjoy a booming employment landscape.

A long time ago, our city used to be looked at as a farming hub. Today, you can count on us to provide a medley of goods and services to the table.

Frisco is a Dallas suburb that is part of the greater DFW area. Here, you can enjoy many types of upscale restaurants, shopping centers, or other forms of high-quality entertainment.

The area of Frisco happens to be one of the safest in all of Texas. Our crime rates continue to decrease, and we couldn't be more proud of that.

To learn more about Frisco click here.