Karate Places Near Me Frisco TX
Have you been searching for Karate Places Near Me Frisco TX, but still have not found the perfect dojo for you? Perhaps you and your children are looking for a dojo where you can both train. But you do now know which one to pick. There are many karate dojos in the Frisco area, but you can count on us to stand out from the crowd. With Tiger Rock Martial Arts- Frisco being ready at all time to provide you with the best karate instruction, you will never be disappointed. Contact us today for more information, or keeping reading to learn what we are all about.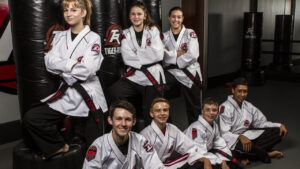 Tiger Rock Martial Arts first began back in 1983. And since our inception, we are currently the most popular, successful, and largest martial arts franchise across the country. With over a hundred locations across the nation, we have equipped each and every one of our locations with a team full of experts and certified instructors. If you are trying to find a group of professionals who have decades of experience, Tiger Rock Martial Arts is the perfect place for you. We know what it takes to become a martial artist, and we are prepared to guide you through this journey. If you are beginning to worry about your level of mental and physical strength, we can help you make drastic improvements. 
Here at Tiger Rock, you can count on our instructors to teach you the skills you need to succeed. While also guiding you and giving you the help you need through this journey. We teach a traditional form of Korean Taekwondo as well as self-defense classes. We believe that when you learn martial arts, it can help you grow into the person you have always wanted to be. Consistently attending a martial arts class can have a wide variety of benefits that you will definitely see in your everyday life.
Benefits of Karate Frisco TX
Are you currently unsatisfied with your level of physical strength? Perhaps you are not able to lift as much weight as you once were. Or you are noticing that our upper and lower body and looking out of shape. And you are wanting to get stronger. If this sounds like you, regularly attending our karate sessions is a great start. The series of strikes, kicks, and routines we put you through will help you increase your strength. And not only will you see an increase in your strength. But you will also definitely see an improvement in your flexibility.
It is not uncommon for many of us to come home after work and head straight for the couch. This, unfortunately, leads to many of us lead sedentary lives. Which is not healthy for anyone. Are you beginning to notice that you are not as flexible as you once were? And you can't find the right avenue to fix this problem? Research shows that studying martial arts is a great way to increase one's flexibility. You will see that when you are constantly practicing martial arts, you will become more and more flexible quickly.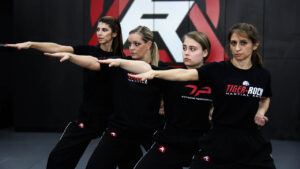 As we age, our cardiovascular health is something that we need to pay more attention to. The best way to ensure your cardiovascular health is up to par is by taking karate lessons. Are you beginning to feel winded very easily and you are not happy with your current level of physical fitness? If this sounds like you, know that we can help. Enrolling in karate classes will boost your stamina and ensure that you stay energized throughout the day.
Best Karate Place Frisco TX
Are you someone that enjoys competing against others? If so, Tiger Rock also encourages our many students to participate in the competitions that we hold on a regular basis. We have nationwide competitions that can help you increase your skill level and hone your techniques. At Tiger Rock, we believe that healthily competing is a big part of developing your skills and capabilities. We can pair you with another student who has had similar training and experiences. A sparring partner is a great way to see where you measure up against other students.
Tiger Rock is Ready to Train You!
Don't fret if you are having problems finding the best Karate Places Near Me Frisco TX for you or your kids. We understand that it is important to take your time when you are on this journey. But if you are prepared to start pushing yourself past your limits and you want to grow both mentally and physically, contact us today. At Tiger Rock, we know that it can be tough, but our certified instructors are here to help you reach your full potential. Contact our representatives today for more information about our classes and schedules. Because we are ready to train you today!
Information About Our City of Frisco, Texas
Frisco, Texas is a small suburb that lies within Dallas. As a part of Collin County, this is considered to be a component of the Dallas-Fort Worth area.

Are you someone who places a high priority on making the most out of your real estate? If you're a big fan of finding affordable houses that are new and unique, Frisco is the perfect place for you.

Most of the residences in our city are under 15 years old, and they are also very diverse. Many people move here because they're passionate about saving money and finding affordable, safe homes for their families.

To learn more about Frisco click here.