Martial Arts Classes Near Me Frisco Texas
Are you trying to find Martial Arts Classes Near Me Frisco Texas? That can help both you and your family increase your martial arts abilities? Perhaps you are not able to find a dojo that meets all your needs or expectations. If nothing in the Frisco area is making much sense for you, you can count on the team at Tiger Rock Martial Arts- Frisco to help you. Our team of certified instructors is here to help you increase your abilities. And help you transform into the person you always wanted to be.
Tiger Rock Martial Arts are not new to the industry. In fact, we first began in 1983 and we are currently the largest martial arts franchise in all of America. We currently have over a hundred location and we continue to grow to serve people just like you. Here at Tiger Rock, we teach a traditional form of Korean taekwondo as well as self-defense and other classes. If you are trying to learn martial arts and improve yourself, this is the place for you. We have courses and programs that will help you grow both mentally and physically.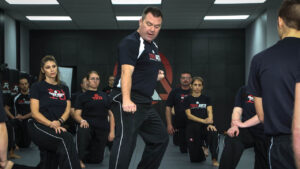 Learning martial arts is a great way to reduce stress and anxiety. Are you currently working a high-stress job? Maybe your anxiety has begun to take over, and you are not able to perform at a high-level. This is something we all go through. But it is important to get it figured sooner rather than later. The last thing you want to do is potentially lose your job because of a lack of mental health. While there are many ways to improve this, one of the most effective is learning martial arts. The expert instructors here at Tiger Rock can give you the tools and resources you need to reduce your stress and anxiety stay focused throughout the day.
Martial Arts Classes Frisco
Here at Tiger Rock, we know that your physical health is extremely important. But your mental health is just as important, and often, people forget about this. You need a strong mental health is you are going to get through the many hurdles that life will throw your way. If you noticing that many obstacles are beginning to discourage you and getting the best of yourself. Getting involved in karate can help. Because seeing yourself develop skills that will increase your mental and physical capabilities is a great way to instill confidence.
You may be trying to find a good way to increase your confidence. If you are currently dealing with low self-esteem, martial arts can help you. When you are feeling like you are lacking confidence, it will affect nearly every aspect of your life. It can hinder you from reaching your goals and the more negatively you think about yourself, depression can begin to set in. If you are ready to gain your self-esteem back, we highly suggest you visit a dojo as soon as possible.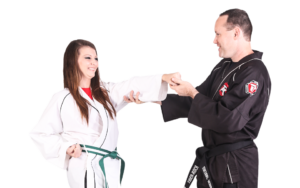 If you want to integrate yourself into Martial Arts Classes Near Me Frisco Texas, Tiger Rock is here to help you do exactly that. Our team of instructors is willing to push you to break past the limits you have placed for yourself. You may think that your body is not Abel to do one more kick after doing 100, but we will push you and show you can go further. We understand that everybody wants to get better and our experts are here to push you to do so. There are no shortcuts in our 15-step ranking program, and you will have to work to achieve the next level. If you are ready to transform yourself and become a better, more confident person, this is the place for you.
Martial Arts for Kids Frisco
We want your entire family to be able to enjoy and learn martial arts together. Which is why at Tiger Rock Martial arts, we have classes and courses geared towards children as young as four years old. So, if you are trying to find a dojo that can train both you and your children, visit us and ask about our introductory course package.
Studies have shown that the earlier you expose your children to martial arts, the better it is for them. This is something you can take advantage of, and it will help your kids become more disciplined and athletic. Do you have a teenager that having behavioral problems in school? If so, then we highlight suggest you visit our dojo. We have years of experience helping all different types of people learn discipline and focus they can take through their life.
Call Tiger Rock Frisco Texas Today
While you might feel overwhelmed by all the Martial Arts Classes Near Me Frisco Texas, available, Tiger Rock is the studio that stands out from the rest. Our team of certified instructors is able to teach you traditional Taekwondo with a modern twist. We are confident that you will feel more equipped to handle the struggles of life after going through our rigorous program. For more information and details on our courses and classes, reach out to our representatives. We can give you info on our introductory course package and performance evaluations so we can begin your mind, body, and soul transformation.
Information About the city of Frisco, Texas
Frisco is a small part of Dallas that is located in Collin County.

There are twenty golf courses around the city, and many of our citizens are avid fans.

There are many special parts of the city of Frisco. Are you someone who enjoys high-quality restaurants? Perhaps you're trying to find a place that hosts sports team your family can go see at times. If so, this is the perfect spot for you to be in.

Frisco is a place you can thrive in. If you're an entrepreneur that isn't having too much luck in your current city, moving to Frisco could be a great maneuver.

Farming used to be our calling card, but we can help you build your business to new heights. Over the years, we've been providing our citizens with different opportunities that make their business much, much better.

This is a family city that can help you and your kids enjoy some safe and secure fun. We have a plethora of different parks around our community for citizens to take solace in.

To learn more about Frisco click here.