Martial Arts For Adults Frisco Texas
Finding the right Martial Arts For Adults Frisco Texas can be difficult if you cannot find the right dojo for your needs. Are you trying to enhance your martial arts skills but you do not know where to start? If you are ready to start improvements, Tiger Rock Martial Arts- Frisco is here for you. Our certified instructors and courses are here to assist you and help you grow.
Tiger Rock Martial Arts is a martial arts franchise that first began in 1983. Today, we are known are the largest and most successful franchise across America. And we continue to open locations to help students just like you. We currently have over a hundred locations and we do not plan on slowing down anytime soon. If you are trying to find a dojo that can teach you a traditional style of Korean Taekwondo, this is it. At each and every Tiger Rock dojo, we have developed a team of certified instructors and martial arts experts who have mastered this form of combat. Tiger Rock Martial Arts can help you transform both mentally and physically. Because our team wants to make sure you enhance your mind, body, and soul.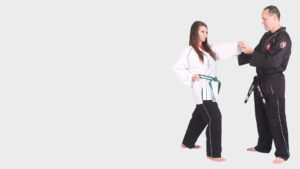 Are you having problems at work? And you are beginning to feel like these problems are getting the best of you? Perhaps you are not able to stay focused at work and no you are behind. If you are ready to start doing better, martial arts can help you. One of the many positive benefits of martial arts is the mental toughness you gain. When you are studying karate you can enhance your mentality and make yourself more disciplined and focused. Also, when you see yourself gradually rank up after putting in the effort it will increase your confidence as well.
Martial Arts Training Frisco
There are numerous studies that show the benefits that martial arts can have on the mind. While many people may think that martial arts only offers physical benefits. That could not be further than the truth. Here at Tiger Rock, we have developed an atmosphere that promotes growth, learning, consistency, and discipline in every single student that comes to our dojo.
Do you have a child that is currently struggling with behavioral problems? And they will not listen to anything you or a teacher tells them? If you are experiencing many behavioral issues with your child. And you are ready to work towards a solution, we are here for you. Signing them up for martial arts training could be the solution you have been looking for. Did you know that martial arts can help your child become more disciplined? So, if your child is going through this, we highlight suggest trying martial arts classes. These classes are a great way to keep your child engaged, challenged, and active.

In addition to the many mental benefits, you can receive by enrolling in karate. You will also see a positive increase in your physical health. If you are not happy with where your physical fitness levels are at, taekwondo is a great way to change that. You will get strength, stamina, speed, and much more when you are put through our drills and exercises on a regular basis. You may not feel like you a fit for learning karate, but our instructors will work with you. Anyone can learn karate no matter what their age and physical fitness levels are. Here at Tiger Rock, we are always performing performance evaluations so our students know how they are physically progressing. If you are trying to find a way to better your physical health, this is a great place to do just that.
Call Tiger Rock Today To Enroll!
When you come to Tiger Rock to learn martial arts. You do not need to worry about long-term contracts of hidden memberships fees getting the best of you. We do not believe in putting our students in long-term contracts, we want them to have the flexibility to come and go as they please. We provide all our students with straightforward billing along with flexible schedules. So, if you are someone that works long hours or is taking care of a family. We can work around your schedule. We offer classes in the mornings, afternoons, evenings, and weekends. And our time slots are always increasing!
When you are looking for the best Martial Arts For Adults Frisco Texas classes. Reach out to the professionals at Tiger Rock Martial Arts- Frisco. We have a team of certified instructors who are prepared to give you more information and details on the many classes and courses that we offer. It does not matter if you are a toddler, teen, or adult. You will have a place here at Tiger Rock. Get in touch with our representatives today to learn more about the introductory course package we have built for new students. We are ready to help you begin your transformation and see the many benefits martial arts can have on your life.
Interesting information About Frisco!
Are you a farmer or someone who enjoys farmers' markets? If so, we think you'll definitely love living right here in Frisco. Though we have had a lot of urban expansion over the years, we're also able to provide you with old-fashioned farming and crops.

Frisco is a city that's steadily on the rise. As a part of the Denton and Collin counties, it's an important part of the Dallas-Fort Worth metroplex. You can count on this to be a great spot for Texans for years to come.

This is an upscale community that can provide you with some truly great experiences. If you're a fan of high-class eateries, museums, and other attractions, this is a great place to visit.

We care about giving our citizens a safe place to exercise and have some family fun. Take advantage of the 20 parks that are located around our city! We have golf clubs, too.

To learn more about Frisco click here.