Martial Arts Schools Near Me Frisco Texas
Have you been searching for Martial Arts Schools Near Me Frisco Texas? But you are feeling like you are not as physically capable of such a thing. Or perhaps your mind is lacking. If your confidence and self-esteem are falling and you do not know what to do, Tiger Rock Martial Arts- Frisco is here to help. Our team of expert instructors is here to reach your goals an become better. Read more and find out how we do this.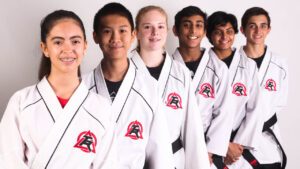 Tiger Rock Martial Arts were founded back in 1983. Today, we are currently the nations most popular and largest martial arts franchise. Each and every one of our 100+ locations is staffed with a team of certified instructors who want to help you reach your goals. If you are trying to learn Korean Taekwondo and self-defense, we are here to help you. As long as you commit yourself to our programs you will see the positive results.
Are you someone that comes home from work and heads directly for the couch? Perhaps you are living a very sedentary life and you are noticing how stiff you are becoming. If you are not happy with our range of motion and flexibility, we think you should visit a martial arts school. Training in martial arts can help your limbs become more flexible. Furthermore, you will also be able to complete drills and training you never thought your busy was capable of doing.
Martial Arts Classes Frisco Texas
Are you noticing that you are easily winded by going up a flight of stairs or walking around a store? If this is something you are facing, you may be feeling like you are not ready for karate. Even though these things will be changed in our dojo, you do not have to let them hold you back. We have students who come from all different types of physical capability levels. So, if you do not think you are ready for this, put your doubt aside and sign up for a martial arts class. We will make sure are placed into a program that really fits your current capabilities and future goals.
Often, when people think of martial arts, they only think of the physical benefits that come with learning this. But the benefits run much deeper than that. Are you someone who struggles with keeping focus for long durations of time? Perhaps you are having a lot of metal lapses either at work or school and it is beginning to worry you. Unfortunately, in this day and age, we are all prone to having short attention spans. While this is something that many of us struggle with, there are lots of ways to make this better. Training martial arts is a great way to increase your focus.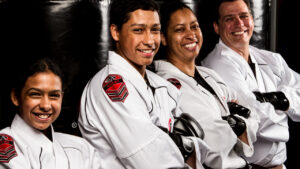 Mental toughness is something you cannot put a price on. We want everyone to become mentally stronger, and nearly everybody is looking for a way to improve their brain. So, if you are trying to do this while also enhancing your physical fitness, Tiger Rock is the place for you to train. We have tons of solutions that can help you find the balance between mind, body, and soul. We want to provide you with a complete transformation that makes your life better for the long haul, not just while you are in our dojo.
Martial Arts Classes For Children Frisco Texas
In addition to providing adults with classes and courses, did you know that we have programs for kids, too? We understand how important it is to get children acclimated to martial arts at a young age. Studies show that the sooner you enroll a child into a karate program, the sooner they will start becoming more disciplined and respectful. So, if you want your child to experience the positive benefits of martial arts as well, visit our dojo today.
Is your child struggling at school because of bullying? Unfortunately, we live in a society where bullying never seems to end. And while you might think that martial arts will promote fighting and make the situation worse, this is simply untrue. The discipline your child will experience in a dojo will be unlike anything and while we do teach children how to strike and kick, we never promote violence. Whether your child is dealing with a bully at school or being the aggressor, our instructors are here to help. Our experts understand how to connect with children. You will be able to count on them to provide your child with the training they need to become better people.
Contact Tiger Rock Frisco Texas Today!
Our Martial Arts Schools Near Me Frisco Texas is here to help you become the best version of yourself. We understand that everyone wants to be able to reach their goals and achieve their dream. And our team is here to help you do just that. If you are ready to improve your martial arts skills, give us a call today. Our representatives can provide you with more information on our services as well as our class times.
Information About Our City, Frisco
Frisco is a very quality part of the Dallas-Fort Worth area. As a component of both the Collin and Denton counties, you'll be able to easily access the metropolitan areas.

Farming is something that we used to be known for. While there are still farmers that do business here, note that we have a number of business opportunities here.