Martial Arts Training Near Me Frisco Texas
When looking for Martial Arts Training Near Me Frisco Texas classes. It can be very difficult finding a martial arts dojo that stands out. Are you looking for martial arts training that can take your physical and mental health to the next level? Maybe you are ready to transform your mind, body, and soul and you would like to join a dojo that can assist you with your goals. If this sounds like you, Tiger Rock Martial Arts- Frisco is prepared to provide you with the top-notch training you are looking for.
Tiger Rock Martial Arts have been around since 1983. Today, we are the biggest and most successful martial arts franchise in all of America. We have built a brand that is founded on reliable and steady ideals. We believe that not only is your physical health important, but your mental health is taken care of, too. And we have well over a hundred locations in all of America, and we continue to grow as a powerhouse in this industry. If you are looking for a great martial arts studio in Frisco, Texas, we can help you train in the best way possible.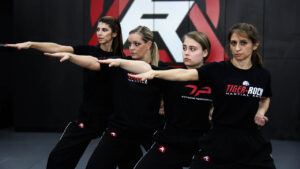 Are you worried about how you are going to learn martial arts? You may feel overwhelmed and like it is too late in your life to learn. Perhaps you are someone that does not have a background in martial arts. And you feel like you are out of time to learn and master this. If this is the mindset you are currently facing, you should know that you can do it. Our professionals know that there are some men and women who feel like they are too old or not physically in shape to learning martial arts. But it is important to not let your doubts get the best of you. And it is time to expand your potential by joining Tiger Rock Martial Arts in Frisco.
Martial Arts Training
Training in martial arts can have a multitude of benefits if you invest your time and energy into them. Are you trying to find a way to keep your physical fitness levels high? Are you worried about how low your strength, speed, and stamina is? When you learn martial arts, you will be able to improve these capabilities in no time. In addition to this, your mental fortitude will also increase. You will definitely see a boost in your focus, discipline, and motivation while practicing martial arts on a regular basis.
Are you struggling to keep your focus at work? Maybe you are not as mentally sharp as you once were, and you are nothing the negative effect it is having. Perhaps you have a very cognitively demanding job that requires you to always be alert, focused, and ready to react. If you are not as mentally strong as you once were and you are ready to make changes, we can help. It is important to keep your mental fortitude high so you can succeed in life. It also helps us stay strong during the curveballs we encounter. If you would like to improve your mental strength, Tiger Rock Martial Arts can help you.
Are you worried about your physical fitness capabilities? Maybe you have been putting off signing up for martial arts lessons because you do not feel strong enough. If this is how you are feeling, you are not alone. But here at Tiger Rock, we embrace any incoming individual who wants to be a part of the culture we have established. If you are someone who hasn't studied in karate or Taekwondo in the past but you are ready to tackle it now, let's get to work. It does not matter what your age is or where your physical fitness level is at. Our team is ready to support you and help you develop into a proficient martial artist.
Martial Arts Training for Kids
If you are a parent, you may be wondering what you will do with your kids when you are at Tiger Rock. Instead of worrying about hiring a babysitter during the hours of your class, why not bring them along? Tiger Rock Martial Arts is a family-friendly academy that wants the whole gang to get involved. We have classes for toddlers and teens!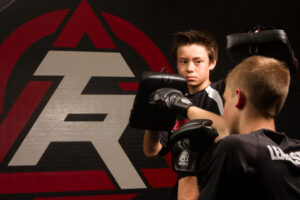 We are proud to announce that we have a Tiger-Cubs program specifically for toddlers who are first learning about martial arts. This is a great way to give your young children the information and reps they need to be successful in this art form for years and decades to come. Do you have an elementary or middle schooler who's interested in karate? If so, bring them over! We've got classes and programs that are specifically tailored to their needs and skill levels. Tiger Rock is fun for the whole family.
Contact Tiger Rock Frisco Texas!
Our Martial Arts Training Near Me Frisco Texas classes are available for you if you are ready to transform your mind, body, and soul! Tiger Rock Martial Arts is a group of instructors and experts who want to help you reach that next level of growth. For more information on our martial arts classes, contact our team today for more info. We would be more than happy to help you learn about what we have to offer.
Information on Frisco, Texas

Frisco is home to the Strikz family entertainment center. This emporium includes laser tag, bowling lanes, and a medley of other fun activities for the whole family.

In Frisco's inception, it was a very rustic town that was a popular hub for farming. Today, many farmers still work out of our town and make profits for the crops they sell. They're a huge asset to our local economy, and we couldn't be more proud of their hard work and communal efforts.

Are you an avid golf fan? If so, you'll love the city of Frisco. The Plantation Resort Golf Club is an 18-hole course that will give you a competitive, luxurious environment to enjoy. Spend your day off getting some swings in at the local course! 

To learn more about Frisco click here.